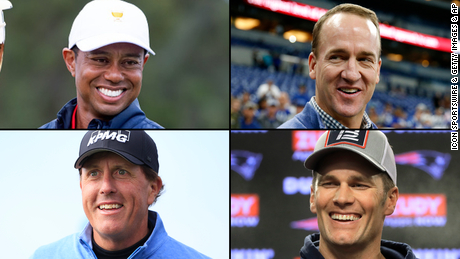 Published by CNN Sports
Written by Ben Church
Golf titans
Tiger Woods
and Phil Mickelson are set to partner up with NFL superstars Peyton Manning and
Tom Brady
in a charity Golf match which will raise money for the fight against Coronavirus.  Dubbed 'The Match: Champions for Charity", Sunday's clash will be a rematch of Woods'
televised clash
with Mickelson in 2018, but this time with the added interest of two of the greatest quarterbacks to ever play the game.
The clash will tee off at 3pm ET on May 24, 2020 and will be simulcast live on CNN International.
WarnerMedia (the parent company of CNN) has joined forces with the players to donate $10 million to local and national causes with more fundraising challenges expected throughout the day.  The showcase match will take place at the
Medalist Golf Club
in Hobe Sound, Florida, but will be played behind closed doors amid the pandemic.